THE MUMMY RETURNS MUSIC FROM THE MOTION PICTURE

Original Music Composed By Alan Silvestri Includes Exclusive New Song "Forever May Not Be Long Enough" Performed By LIVE and Co-Written By Glen Ballard CD Released May 1, 2001 On Decca Records

(New York, NY, April 27, 2001) - Director Stephen Sommers is at the helm once more for The Mummy Returns, the eagerly anticipated sequel to 1999's worldwide blockbuster The Mummy. Brendan Fraser reprises his role as adventurer Rick O'Connell. Also returning are co-stars Rachel Weisz (as Evelyn), John Hannah (as Evelyn's brother, Jonathan) and Arnold Vosloo (as Imhotep). The soundtrack includes the exclusive new song "Forever May Not Be Long Enough," performed by LIVE and co- written by Glen Ballard. The score was written by composer Alan Silvestri, and will be released May 1, 2001 from Decca Records.

Set in 1935, ten years after the events of The Mummy, a band of treasure hunters seeking artifacts to sell to the British Museum unearth the remains of the high priest Imhotep. Transported to London, Imhotep is resurrected and once more embarks on his quest for immortality. But another force has also been set loose in the world - one born of the darkest rituals of ancient Egyptian mysticism, and even more powerful than Imhotep. When these two forces clash, the fate of the world will hang in the balance, sending Rick and Evelyn on a desperate race to save the world from unspeakable evil.

The Decca soundtrack album features the epic original score by Oscar, Grammy and Golden Globe nominee Alan Silvestri (Back To The Future, Forrest Gump, What Lies Beneath, The Mexican). It also includes a brand new track by the powerful rock band LIVE, whose four MCA/Radioactive albums have sold millions of copies worldwide. The track, "Forever May Not Be Long Enough," is co-written and produced by five-time Grammy winner Glen Ballard, known for his chart-topping successes with Alanis Morissette, Aerosmith, Michael Jackson and most recently the Dave Matthews Band. This track, played over the end credits of the film, is exclusively available on The Mummy Returns soundtrack album until LIVE's next studio album is released by MCA/Radioactive on July 31.

Universal Pictures and Alphaville Productions present The Mummy Returns, the first blockbuster release of the summer. The film opens May 4 in theaters everywhere and features groundbreaking visual effects by the Oscar-winning Industrial Light & Magic.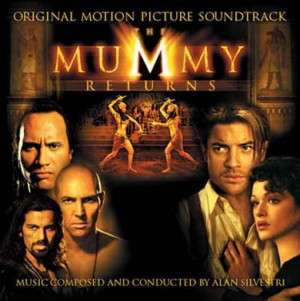 Click on the photo!